Timothy Nash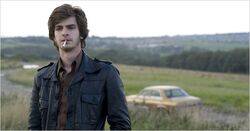 "

I like money, and I like hurting folk. Might as well get paid to hurt people, right?

— Timothy Nash

"
Timothy Nash, also known as Bulldog, is a British member of The Wolves and President of an MC called tha Cuttahs MC. He was recruited into the Wolves during its post-War for New York expansion into London.
Timothy was born on August 12th, 1981 to largely free-spirited parents. Rebellious and brutally honest, Timothy dropped out of school at age 16, and began to help his older brother Harry as a prospect for his biker gang, the Cuttahs MC. After several years, Timothy earned the trust and respect of the rest of the club, and even managed to work his way into the position of Vice-President. Of course, all good things had to end.
In 2007, the Cuttahs entered into a conflict with a rival club named Rowdy Banshees over gunrunning and territory. After several deaths on both sides, Harry and Timothy were invited to a peace meeting to stop the bloodshed. The meeting turned out to be an ambush, and in the chaos, Harry was killed helping his brother get to safety. Vengeful, Timothy continued the war. But the Cuttahs were outnumbered, and the situation slowly became more and more desperate. When it seemed hopeless, Timothy was approached by Wesley Black, representative and right-hand man of Alexander Greaves, who offered to assist Timothy in return for the Club's loyalty to Greaves's organization.
Timothy was largely distrustful of the deal, until Greaves revealed the similar tragedies in his own life. Empathizing with Greaves enabled to Timothy to trust, and eventually, respect him, and helped him bring down the Rowdy Banshees and avenge his brother. After this victory, Timothy acts both as the Cuttahs President and Greaves's top enforcer, a role which also doubles as an advisor.
Personality
Edit
"

Personally, I don't give a bloody fuck about any business, but Greaves likes 'earing my honest opinion, so I guess I'll tell 'im.

— Timothy Nash

"
Timothy's major skills (besides shooting, biking, and drinking) are being brutally honest and fiercely loyal to those who have earned his loyalty. It's these two traits that endeared him to Greaves, who constantly asks his friend for opinions, knowing that he won't pull any punches.
Underneath his rough exterior, Timothy is a surprisingly caring individual who goes out of his way to ensure his "brother's" well-being and help others in less fortunate situations.
Weapons and Equipment
Edit
TBW